Punting in Cambridge
Punting in Cambridge Chauffeured tours along the picturesque River Cam.
The Cambridge Punt Company
Punting in Cambridge is the ultimate way to enjoy the sights, with the River Cam passing through the very heart of Cambridge's University campus affording unique views of the most famous Colleges. Our chauffeured punting tours begin opposite Magdalane College Gardens and commence up through St John's College, Trinity College, Trinity Hall, Clare College, Kings' and Queens' Colleges.
So come and join us for an unforgettable punting tour in our beautiful city of Cambridge, we look forward to welcoming you onboard!
We regularly offer promotional discounts for our punting tours, so be sure to keep an eye out for those! 
Our Shared Punting Tour is the perfect way to experience the beautiful sights along The Backs, at a fraction of the price of one of our exclusive and ever popular Private Tours. Relax whilst you are Chauffeured by one of our fabulous and knowledgeable tour guides, and share the experience with fellow explorers.
For bigger groups, a Private Punting Tour may make more sense as you can take the whole boat and not share it with other members of the general public. See our Private Punting Tour Page. Boat capacity is a max of 12.
Allow your punting guide to show you the wonder of The Backs, the mile stretch of river we take you on hasn't changed, nor has the quality of our guides and the commentary, just the way you are spaced in the boat. 1m apart from other groups or separated by a perspex screen, we have taken measures to ensure we comply with guidelines. Hand sanitiser and masks available.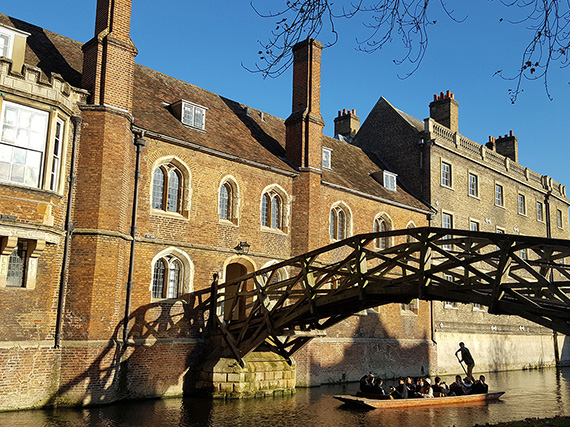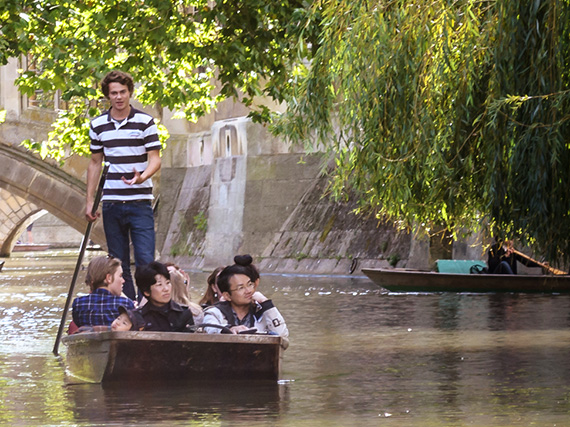 Our speciality at The Cambridge Punt Company remains the traditional Private Punting Tour. (Tour duration 45-50 mins).
It used to be that every punt tour in Cambridge was conducted privately for one group of customers at a time. The explosive popularity of Cambridge as a tourist destination has resulted in shared tours, that is larger punts carrying several groups of different customers on the same punting tour.
Join us today, for your very own private piece of Cambridge!
Book Your Hen
Punting is a must-do activity for you and your hens. Take one of our Private Guided River Tours along The College Backs, and listen to our expert, (easy on the eye – even if we do say so ourselves) guides giving you an informative tour
Over 1,400 Five Star Reviews on Tripadvisor
Relaxing, informative and amusing
" Had an enjoyable tour of Cambridge with my patenter. We shared with a family of 5 but we got half the boat to ourselves which was nice. It was especially enjoyable as the sun was out. Would definitely recommend if you are unfamiliar with Cambridge "
Douglus - August 12th 2023
Informative and humorous!
" This was a thoroughly enjoyable experience - the sightseeing was excellent from the river and Will our guide was informative and humorous. we would definitely recommend this as it was one of the highlights in our trip. "
Helen G - August 11th 2023
Fabulousness
" Trip was amazing Max was great with the history lesson which made the punting a great start to the day "
Peter G - 7th August 2023