You're in Cambridge. You want to relax and see the sights. The glorious Cambridge Backs are calling your name. But should you choose a guided punting tour or a self-hire punt?
Well, clearly we're a tad biased about the answer to this question at The Cambridge Punt Company. But bear with us – because we think there are 5 great reasons why you should pick our guided punting tour.

The extras you can expect on your guided punting tour
Our punt chauffeurs tell a good story
Unless you've studied the history books and read up on Cambridge folklore, your experience of the riverside Cambridge University colleges and historic bridges will be purely about the views. They are spectacular views, granted – especially early or late in the day – but our punting customers say the iconic Cambridge sights are brought to colourful life by our commentary.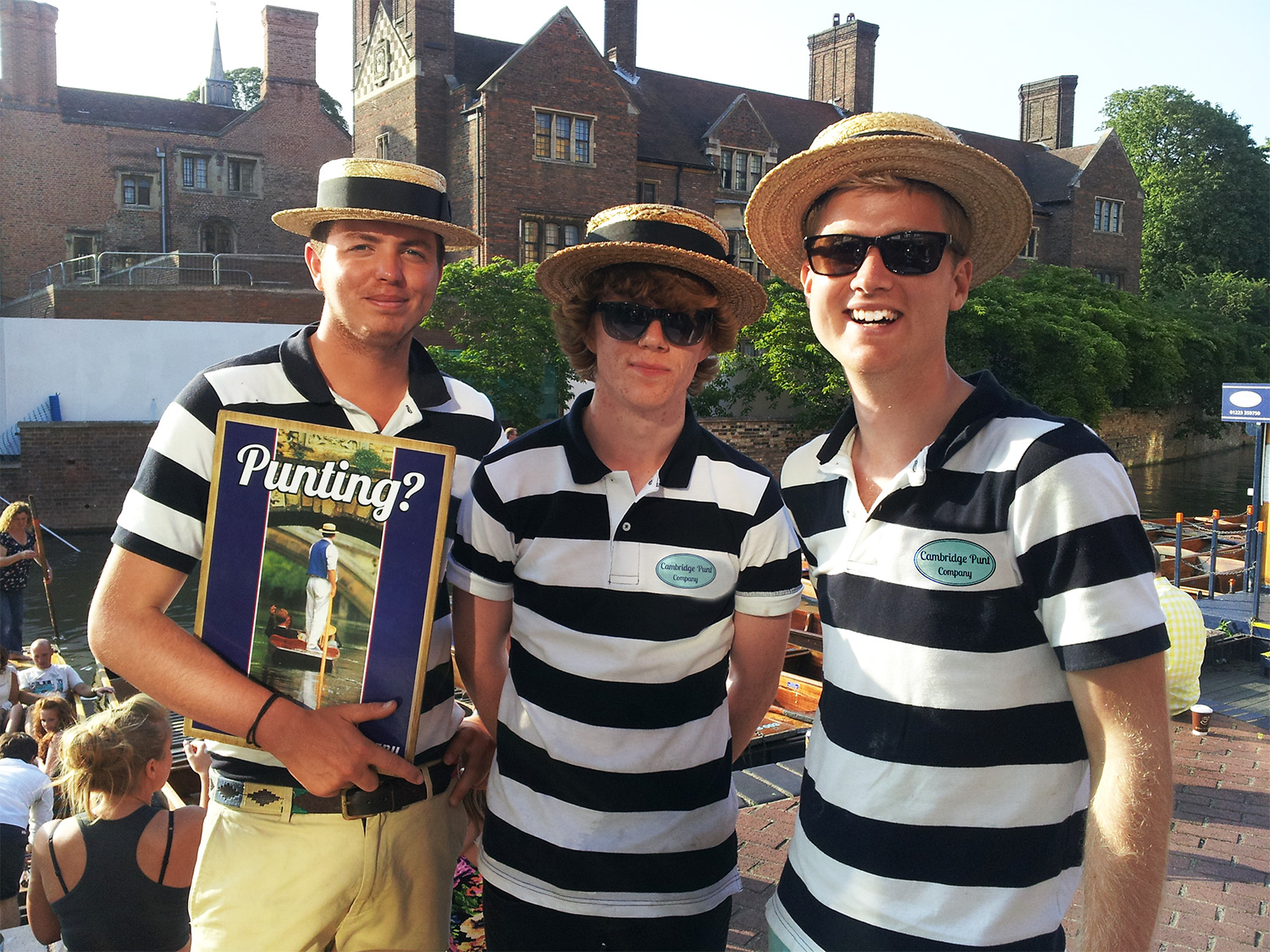 Our punt chauffeurs inform and entertain you with a memorable mix of fascinating history, fun facts, astonishing anecdotes – with a dash of local gossip thrown in. (You didn't hear it from us, okay?).
Will has worked with The Cambridge Punt Company for three years. Will's pictured here on the left, relaxing before a very busy Bank Holiday weekend. "I really enjoy talking to people on our guided punting tours," he says. "And I'm always learning something new on the boat too – I talk to so many different people."
Kara Pavey brought her family along for a guided punting tour with The Cambridge Punt Company. In her review on Trip Advisor, she said: "Just wanted to say how impressed we were with our chauffeur, Will. We had our first punt yesterday and Will made it so informative and enjoyable for us and for our kids (ranging from 15 to 7). As soon as we got off, they asked if we could go back on!"
We always go the distance on your guided punting tour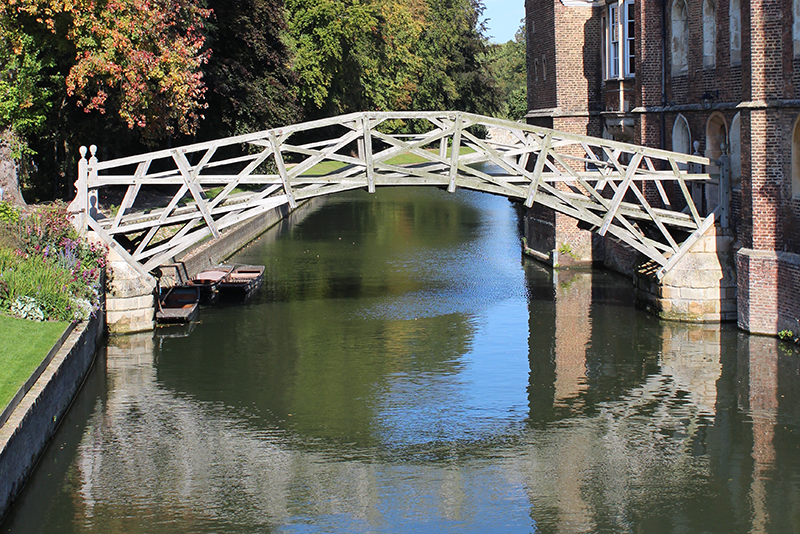 You'll get the extra mile on our guided punting tour – literally! Unless you've had a fair bit of practice with punting, there's a chance you may not see all seven riverside Cambridge colleges and eight historic bridges on a self-hire punt.
As Will explains, it takes some skill to steer a punt, especially at busy times on the River Cam: "We always see the self-hires going diagonally across the river," he says. "About 60% of the boats on the water are driven by people who can't actually punt!"
It's a lovely experience to let us do the hard work for you. Linda from Braintree commented on Trip Advisor: "My husband and I came to Cambridge with a young visitor from Argentina. No sightseeing visit to Cambridge is complete without a trip in a punt, so we booked a shared tour of the Backs. As well as steering us expertly through the tangle of first time punters, our guide, Finn, was very knowledgeable and gave us an interesting history of the colleges. The trip is good value for money, leaving you to sit back and enjoy views of the colleges while someone else does the punting, which is much more difficult than it looks. And there's the added entertainment of watching the novices trying to steer their punts along the Cam too."
You'll be in safe hands on our guided punting tour
"Quite a few people like to crash their self-hire punts," Will says. "It becomes physically difficult to navigate at busy times on the river, especially when people have had more to drink."
All our staff are pretty nifty at dodging the jams along the Cambridge Backs. We'll zip you round the zig-zaggers and punt you painlessly past the pole-huggers!
You can also rest assured that all our punts are expertly crafted by a skilled boat builder. Our boats are fully licensed, authorised and insured too.
There's nothing wrong with having a go at punting, of course – and at very quiet times on our guided punting tour, we can occasionally let you have a quick go at the helm. This isn't always possible on our shared punting tours, however, as we have to make sure everyone sees all the lovely sights and gets back to dry land in one piece!
If you want to avoid the crowds altogether, then Will's tip is to come early in the morning (9am to 11am) or after 6pm. Our punt chauffeurs will dodge the novice punters at any time of day for you – but at these times, the river is so much clearer and the atmosphere is often serene.
Our punt chauffeurs love to tailor their guided punting tour for you
Whether you're a hen or stag party up for a laugh or you're seriously into your Cambridge history, our punting crew always adapt their guided punting tours to suit you.
Will says: "I really respond to people on the boat. I try and read people throughout the tour – how much they want to know about the history or how much they're here just for fun. I love taking out older people, as they are often the most interested in my tour of the Cambridge Backs. And they laugh at my cheesy jokes! A hen do can be great too – because they're up for a lot of fun. Stags basically get naked and jump off!" (Probably the less said about that the better, Will!).
"I also really love taking Chinese tours out now because I've learned all the names of the colleges and bridges in Chinese. The translation for Trinity College, for example, is "Three One College. Many of our Chinese visitors get very excited to see King's College and King's Bridge because of the connection to Xu Zhi Mo, a very famous poet from China. He studied at King's College and when he was going back home, he wrote 'On Leaving Cambridge', a poem that is taught in Chinese schools."
And when you come again, your guided punting tour will be a brand new experience…
"My guided punting tour is different each time I take our customers out," Will says. In fact, all our staff take pride in making their punting tour their own.
One of our very loyal customers, Sally, said: "Today was my ninth punt with The Cambridge Punt Company. I wouldn't punt with anyone else. The tours are outstanding and I have always had a very knowledgeable guide. Today was particularly brilliant with our guide Tristan – what a star and he learnt some Latin! The company are brilliant and always extremely friendly. I'm looking forward to my tenth trip with you."
The best prices for Cambridge guided punting tours are available on our website. Book your shared punting tour tickets or your private punting tour with The Cambridge Punt Company today.
Find us on Visit Cambridge