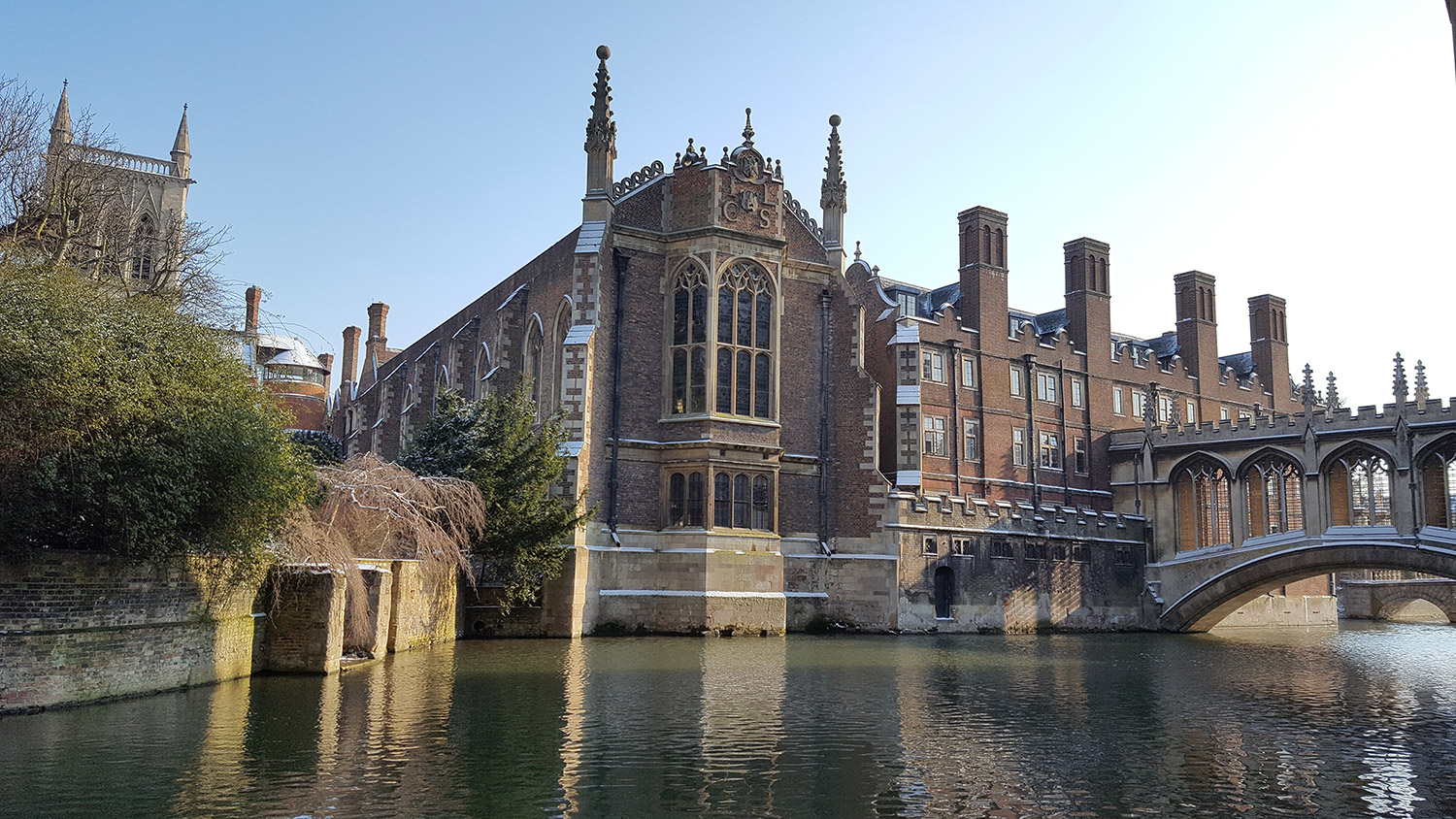 St John's College, Cambridge University – 5 Fabulous Facts over 500 Years
To mark the grand occasion of May Ball fireworks punting, we've picked out 5 of our favourite facts about St John's College, Cambridge. Dive in to the essential tales here – then come punting with us to find out more.
1. The who's who of the Johnians
Over the centuries, St John's College has educated thousands of bright sparks – but who are the most famous alumni? We've picked out 7 St John's scholars, who went on to achieve great things.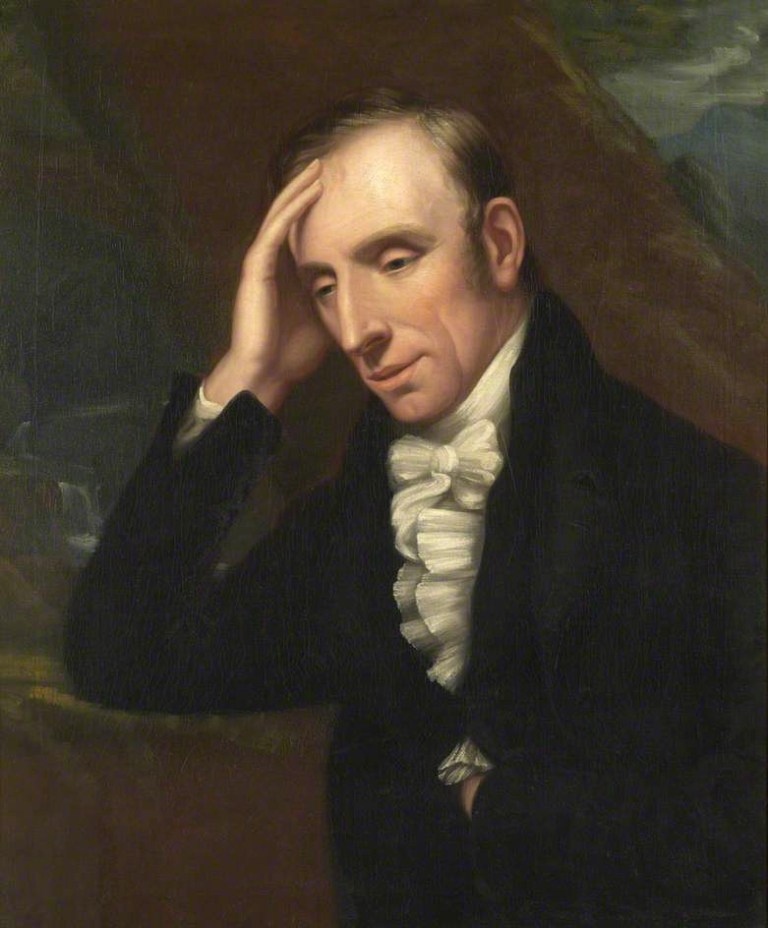 Romantic poet, William Wordsworth – he 'wandered lonely as a cloud' and saw a 'crowd, a host of golden daffodils'. Dear William, we salute you, for your meanderings and musings. Here he is, pictured, searching for his next beauteous line!
Writer, Douglas Adams – he hitchhiked the galaxy and we all came along for the ride. Arthur Dent's adventures in space and time were originally a comedy series on BBC Radio 4, later adapted for stage, screen, print and game formats.
Equality campaigner and author, Laura Bates – she's smashing the patriarchy, one day at a time! Bates studied English Literature at St John's College and first came to public attention with her Everyday Sexism campaign. In her career, she has campaigned for girls' and women's rights, published articles and books on feminist themes, branching into YA fiction with her 2019 novel The Burning.
Prime Minister, Lord Palmerston – the first Liberal Prime Minister. He served as Prime Minister twice during Queen Victoria's reign (she wasn't a fan). In his first term (1855 to 1858), he oversaw the end of the Crimean War. [4]
Former England Rugby player, Rob Andrew MBE – he's nicknamed Squeaky! We're thinking he was a fan of a hot shower after mud wrestling on the pitch. That, or he's scared of mice.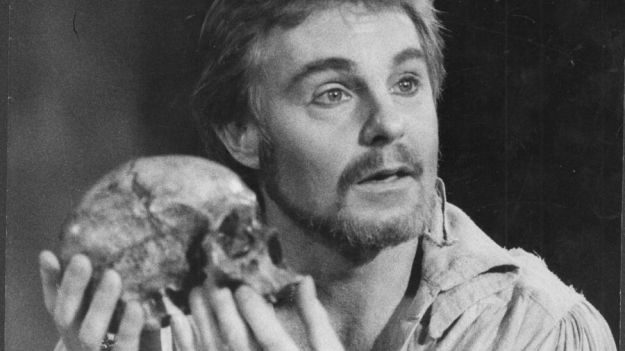 Actor, Sir Derek Jacobi – stage and screen heavyweight, Derek Jacobi has starred in films including Gladiator (2000), The King's Speech (2010) and Murder on the Orient Express (2017). He read history at St John's College – but it was stage roles in his university years that lit the touch paper for his glittering acting career. Jacobi is pictured here – skull-clasping and soliloquising in Hamlet!
Writer, Jennifer Egan – an American novelist and short story writer, who won the Pulitzer Prize for Fiction in 2011 for A Visit from The Goon Squad.
2. We have Lady Margaret Beaufort to thank for St John's College – but who was this remarkable woman?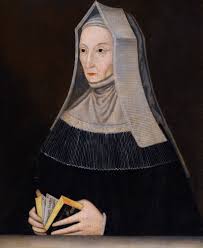 Lady Margaret Beaufort was the founder of two Cambridge University Colleges, Christ's College (1505) and St John's (her wishes carried out after her death by John Fisher, Bishop of Rochester, in 1511). Lady M was a politician, philanthropist, landowner – and, let's not forget, the formidable matriarch of the Tudor dynasty. [1]
Born in 1443, Margaret's father ended his life around the time of Margaret's 1st birthday. She became a ward of William de la Pole and Alice Chaucer. When Margaret was just 6 years old, William arranged her marriage to their son John, aged 7. [2]
After William's death, Margaret's marriage was annulled, but then along came husband number two in 1455. Aged 12, Margaret was married off again, this time to 24-year-old Edmund Tudor.
At 13, Margaret was a pregnant widow – Edmund died from the plague after imprisonment in Carmarthen Castle. The baby she was carrying was Henry Tudor. Childbirth was horrendous. Both Margaret and Henry were lucky to survive. [3]
In 1485, Margaret's son became King Henry VII of England – thanks largely to his mother's work behind the scenes. During his reign, Henry consulted Margaret on many matters. She had increasing influence in governing the country, including when Henry became ill and died.
Margaret died on 29th June 1509, two months after her beloved son Henry's death. She lived to see the coronation of King Henry VIII – and we all know the story there!
3. First Court at St John's College is over 500 years old
Built in 1511-1520 on the site of the old "Hospital of St John", First Court contained the living quarters for St John's Fellows and students, the library, chapel, dining hall and kitchen. Everything you need to eat, pray, study! [5]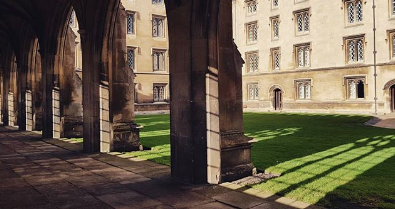 In the following centuries, St John's sprawled westwards and over the River Cam. Second Court popped up between 1599 and 1601. The world-famous Bridge of Sighs and New Court (pictured) were constructed between 1826 and 1831. Along came the great Chapel, 1863-9, designed by George Gilbert Scott – in 2019, the Chapel turns 150 years old. In the 20th Century, more Courts came along on both sides of the river.
Today, St John's stretches half a mile from the Great Gate to the back gate. There are also 28 acres of playing fields for budding sports stars to practise. [6]
4. St John's Fellows – fantasy fireworks punting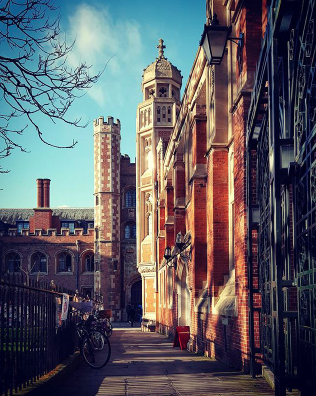 St John's College boasts Fellows from around the world – we are talking some serious brain boxes. Today, there are more than 150 Fellows, who live, teach and research at St John's. [7]
For our fantasy fireworks punting tour of St John's College Fellows, we'd definitely invite:
Professor Deborah Howard – she knows everything about the art and architecture of Venice, so we'll swap stories about the Bridge of Sighs.
Professor Tim P Bayliss-Smith – our tropical rainforest management guru; we do love a green space.
Dr Preston T Miracle (fabulous name!) – he'll identify the hunter-gatherers we spot along the River Cam.
Professor Christine D Gray – our international peacekeeping specialist, very handy for the busiest times on the Cam.
Dr Tom Hynes – he'll get us up to speed on the aerodynamics of jet engines, while we navigate the punt.
5. Hark the St John's angels sing – the world-famous St John's College Choir
Since the 1670s, the St John's College choristers have exercised their glorious vocal chords, singing the most splendid and harmonious notes. The Choir rehearse everyday. Chapel services have taken place since the 17th Century. [8]
In 1959, the Choir issued their first LP recording. Sixty years later in 2019, The Choir released its 100th album, Locus Iste, coinciding with the 150th anniversary of the consecration of St John's College Chapel.
The Choir tours all over the world, delighting audiences far and wide. They have also launched their own webcasting service, so people can hear Chapel performances online.
Come Fireworks Punting and Discover Cambridge with Us
For the best Cambridge tales and some choice gossip, book your punting tour with The Cambridge Punt Company.
Fireworks punting is the most exciting night of the year – so why not take a boat with your favourite people along the River Cam?
At all other times, you can book our private punting tours or shared punting tours – come early morning or early evening for the best experience.
Email or call us if you have special requests. Please book online for the best Cambridge punting prices.
Sources:
[1] https://www.joh.cam.ac.uk/lady-margaret%E2%80%99s-book-hours
[2] & [3] https://www.independent.co.uk/life-style/history/real-life-game-of-thrones-henry-viis-mother-margaret-beaufort-had-to-become-shrewd-and-calculating-9563489.html
[4] https://www.thesun.co.uk/news/6588686/lord-palmerston-uk-prime-minister-queen-victoria/
[5]https://www.joh.cam.ac.uk/index.php/welcome-st-johns
[6] https://www.joh.cam.ac.uk/living-st-johns
[7] https://www.joh.cam.ac.uk/fellows-directory?surname=&field_subject_target_id=All&page=1