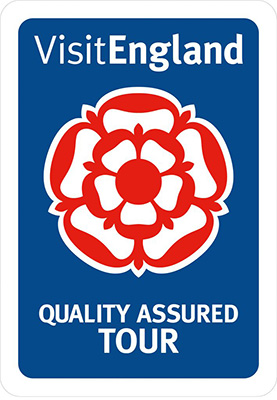 Look, there may some blowing our own trumpet in this blog – some pride about what we do well at the Cambridge Punt Company. We've recently had a detailed and slightly daunting VisitEngland assessment, you see. There really was nothing to fear. But as we're a Cambridge University punting experience, we know you'll forgive our exam nerves. It was a mystery diner style assessment. We had absolutely no idea when VisitEngland were coming.
Well, we're delighted to tell you we passed our VisitEngland quality assessment with plenty of legroom to spare (rather like our comfortable punts). The Cambridge Punt Company were awarded an overall quality score of 79% by VisitEngland. You have to score 60% overall to achieve the VisitEngland Quality Marque with none of the 20 elements marked as 'unacceptable'.
We're thrilled that we can now display the VisitEngland Quality Marque online and at our Quayside desk. We hope this gives you even more confidence about choosing us for your Cambridge punting tour.

Here's what happened when VisitEngland came punting in Cambridge…
Rewind to early autumn. It's the last few days of September, there's hustle and bustle on Quayside. There's the usual mix of UK and international tourists, along with Cambridge locals at the popular coffee shops and restaurants.
So, our VisitEngland assessor steps up to the Cambridge Punt Company desk. Remember, we don't know it's her! She's here to scrutinise every aspect of our punting tour in Cambridge. She's looking at everything we do from our welcome to our punting tour experience, our cleanliness and our punting staff. She has also checked out The Cambridge Punt Company website, social media and Trip Advisor reviews. No stone is unturned!
Exam day over, we wait patiently for her Attraction Visit Report. Would we get VisitEngland approval? We were quietly confident because we do love taking our dear customers punting. But still, it gave us a little flutter in our stomachs when we received her final report.
We discovered so many things from her excellent assessment of The Cambridge Punt Company. We know what we do really well for our punting customers and where we can tweak our service to be even better in 2019.
The great news for our lovely punting customers is we are now, officially, an accredited tour under the VisitEngland Quality Scheme. We couldn't be prouder of our hardworking and loyal team.

What does the VisitEngland Quality Marque mean for your Cambridge punting tour?
Some things VisitEngland say we do really well at the Cambridge Punt Company:

"An impressive 96% of 335 TripAdvisor reviews are rated either 'very good' or 'excellent' and plenty of responses from the Cambridge Punt Company were seen."
"Good first impressions were received on arrival and the hustle bustle of the Quayside builds anticipation well for the tour."
"Staff were all very well turned out in smart, branded attire."
"The pre-booked ticket was processed efficiently and we joined a tour immediately."
"Two male staff members assisted us onto the punt, one being the tour guide, who greeted us in a friendly and welcoming manner, creating very positive first impressions."
"The tour guide demonstrated excellent customer care and skilfully punted us along the river."
"[The guide] efficiently skippered the punt without incident whilst simultaneously delivering a tour and chatting easily with the customers and, crucially, returning on time."
The [punting tour] experience certainly met and, in some areas, exceeded expectations.
"The punt was of an excellent quality standard."
"The boat was immaculate with no litter observed and the blankets were clean and fresh-looking."
"Information regarding sights in Cambridge is a positive feature [on the Cambridge Punt Company website] and could interest the more serious researcher/historian, perhaps browsing at home/abroad."
Some areas for improvement:
VIsitEngland suggested some tweaks to our website and leaflet. We're already working on that for 2019 and beyond.
There's also a bit more we can do to stand out in one of the busiest locations in Cambridge. Our assessor suggested prominently displaying the VisitEngland Quality Marque at our desk, for example, which we now do. So please look out for that when you arrive for your punting tour in Cambridge. We'll also look into additional branding and signage in 2019, to help you pick out the Cambridge Punt Company as soon as you arrive.
Our top tip to avoid the masses is to come early morning or early evening for a punting tour. We've written extensively on why it's worth dodging the crowds. Check out this blog on why punting tours are superb at quieter times of the day.
And of course, we'll continue training every member of staff to the highest standards. We handpick all our staff to give you great customer care and a memorable experience on your Cambridge punting tour. Attention to detail is something we take really seriously at the Cambridge Punt Company. Our staff scored an excellent 86% overall in the VisitEngland Assessment, the highest scoring of the five assessment categories. But we want to do even better than this in 2019. We want to continue getting TripAdvisor 5 star reviews like these, received in the last few weeks…

Recent 5 star Trip Advisor reviews of The Cambridge Punt Company
"Fun and informative *****
Punting on the Cam was incredible. Rob was very knowledgeable about the surrounding colleges, local history and other fun facts about the area. Got to enjoy the sights and some excellent banter. Would highly recommend."
"Theo *****
Had an amazing punt tour with Theo. Great banter and very knowledgeable about the area and the history. Really looked after me and the wife, would 100% recommend both the company and our chauffeur."
"Great time had by all – Rob was excellent and funny *****
Booked online night before (cheaper online than turning up on the day). Despite being brisk to say the least, the trip was really enjoyable, with Rob having excellent knowledge about the colleges, history and famous alumni. Was a good 45-50 minutes well spent – would recommend."

Thank you VisitEngland for your thorough assessment of The Cambridge Punt Company. Please come and see us anytime for another Cambridge punting tour.
The Cambridge Punt Company has always been proud to be a fully insured, licensed and authorised punting company in Cambridge. Now we have our VisitEngland Quality Marque to be proud of too. To get the best prices for your Cambridge punting tour, please book your shared punting tour or private punting tour online. Our Bookings Manager, Jo, is available for bespoke punting tour enquiries and any help you need with your booking. Please email jo@cambridgepuntcompany.co.uk or call +44 (0)7943 820 437.