Best times for a Cambridge punting tour? Favourite famous customer? How to spot a licensed punt company? Did those wrestling hens get their way?! Find out this and more in our Q&A with Nick Maseychik, owner of The Cambridge Punt Company. 
I've got 24 hours in Cambridge – should I choose a daytime or evening punting tour?
I always encourage people to take an early morning punting tour (9am-11am) or early evening (6pm onwards). The ambience on the river is very special at those times. It's when our punt chauffeurs most love to go out. On a clear day, the light is golden – it's absolutely exquisite.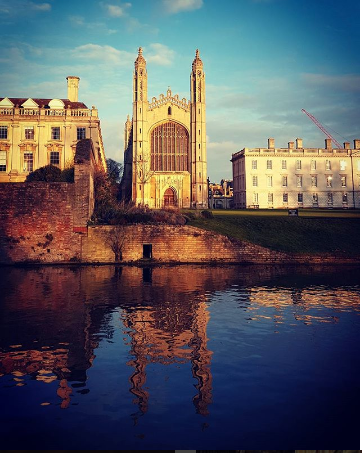 On a Saturday afternoon, there can be up to 300 boats on a mile of water. So it's well worth an early start or a later stay, to experience the real beauty of the river.
The Cambridge Punt Company has been around for over a decade – what's the secret to a great punting tour?
The first year I worked for a Cambridge punting company was 1989 – so that's almost 30 years of private and shared punting tours.
The most important thing is that the punt chauffeur reads the people in the boat. We train all of our staff not to go on autopilot and regurgitate a punting tour script – that doesn't work for anyone.
Hen parties, for example – they don't tend to want much historical commentary. Their focus is usually on fun. I've got a story to tell you about hens, actually!
The level of English is also very important. When our overseas visitors have limited English, our guides keep the information and tales very clear, so our guests can enjoy the experience.
A punting tour can be like a blind date too. Sometimes you meet people in the boat and discover common interests. Then they prefer to talk about their times in South Africa, something like that. It's what makes the job so interesting – the people we meet.
Go on, tell us about a famous customer you've taken punting
One of my favourites has to be Geoffrey Rush – great actor. He starred in The Golden Age (set in Elizabethan times). They filmed some of that at St John's College in Cambridge. He also won an Oscar for his performance in Shine.
My business partner at the time, Simon, brought him over for a punting tour – and afterwards, he said to me, "I recognise him, who was that bloke?"
I brought him up to speed pretty quickly. I said, "that's Captain Barbossa from Pirates of the Caribbean!"
You have a beautiful Instagram page – tell us about your photographs of the river and the Cambridge University colleges
My partner Joanna, who runs the online and business side of Cambridge Punt Company, suggested I take some photos of Cambridge. So I put my mind to it and I've rediscovered a love for the photogenic beauty of the city.
It can be tricky to escape the crowds in Cambridge and the universities have tight security these days. So you have to work hard to get a good shot.
Much like our punting tours, I love taking pictures in the early morning or evening – for the light and long shadows.
I hope The Cambridge Punt Company's Instagram page inspires people – not only to take a punting tour but to explore Cambridge too. Often our customers ask for our advice about where to walk and what to see. Our Instagram page shows some of the most beautiful nooks and crannies of the city.
Tell us about a couple of your favourite photos – what about these pictures do you love?
This image at Clare Bridge captures a rare stillness on the river. The photo was taken at dawn during the hot spell we had recently. This timeless quality of punting is easily enjoyed on most summer mornings.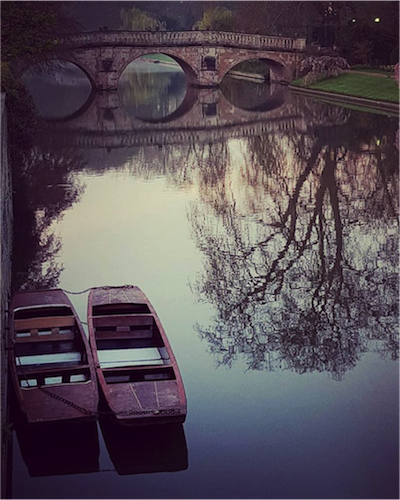 This image is evocative of a bygone era when punts were a common craft that you might keep at the bottom of your garden – should you be lucky enough to live on a river.
What's the strangest conversation you've had with a punting tour customer?
I took a lady out once who introduced herself as a medium. She said my grandfather was watching me at work and he was very proud of me. I took it with a pinch of salt but she was pretty convincing!
Why do your staff at The Cambridge Punt Company stand out?
Beyond the training we do, they're a cool bunch. A lot of our staff do their own research to augment their punting tours. They do a difficult job at busier times – navigating the traffic on the water whilst keeping our customers entertained. They go up the river anywhere between 5 and 10 times a day – with up to 12 people on board each time. They're pretty dextrous.
What's the most memorable group you've taken punting?
So, we need to talk about those hens! There was a big boat's worth of them – and they decided I was going in the drink. I really had no intention of ending up in the water – phone in my pocket, nice pair of deck shoes!
What ensued can only be described as a wrestling match on board the punt. There were three or four of these hens, trying to manhandle me into the water. They didn't succeed in the end. I still don't know whether it was a good or a bad experience really!
You're a fully licensed, insured and authorised punting company – why does that matter?
We're very accountable to our customers and to the local council. We have a recognised mooring, which is essential for insurance. We carry out criminal record checks because we have a duty of care to the people who take our punting tours. Our boats are professionally crafted and really well cared for – every winter, they come off the water for maintenance.
How do I know who the licensed punting companies are in Cambridge?
Just head for the river – all the licensed punting companies operate right on the water, rather than touting around the town.
Outside of work, how do the Cambridge Punt Company crew relax? Beside water – or as far away from it as possible?
My family love the water. There's not a lot of water in Cambridge and we don't necessarily want to be on the Middle River on our days off.
We love Norfolk. The beaches up there are very special. We canoed to Grantchester yesterday. There are some nice waterways around Cambridge and a great river system near St Ives.
Further afield, I love The Tropics – if I could live anywhere else in the world with my family, it would be the Philippines. The people are so lovely there – but it's a long way from here.
Book online with The Cambridge Punt Company for the best Cambridge punting prices. We provide private punting tours and shared punting tours on the River Cam, as well as group tours for special occasions. Reserve your boat today for the May Ball fireworks punting in June 2018 – the most spectacular event of the year on the Cambridge Backs.