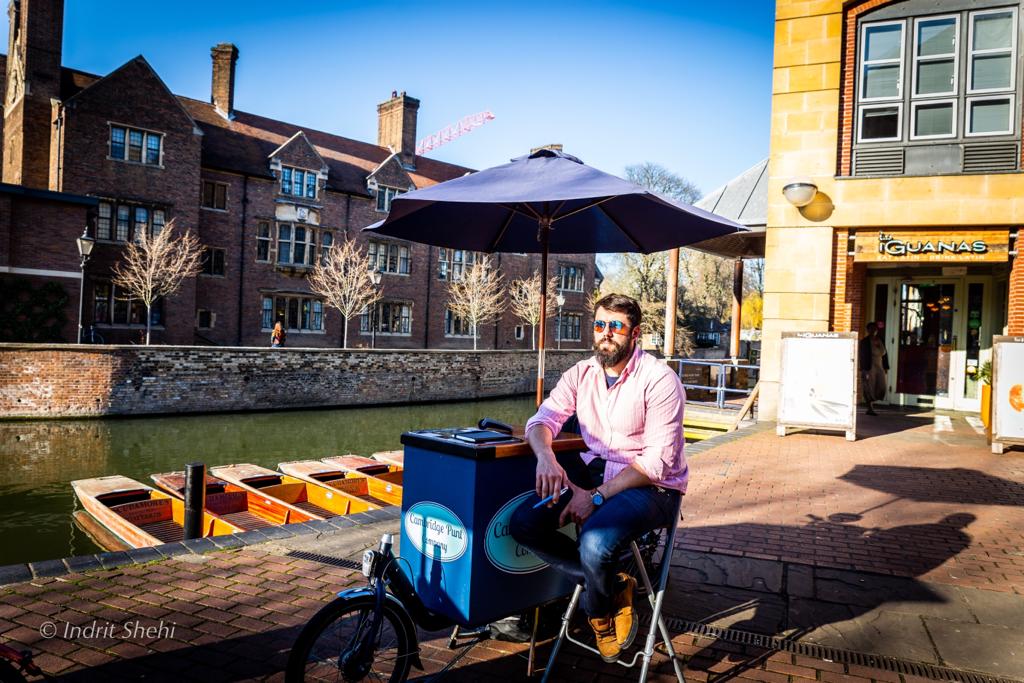 Patryk, our manager, explains why he loves working for the Cambridge Punt Company – including the call of the great outdoors, his favourite celebrity customer and keeping our crew shipshape. 
Why the Cambridge Punt Company, Patryk?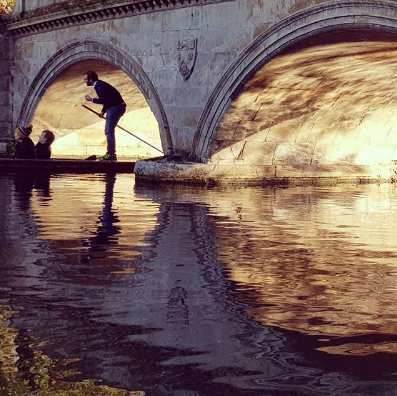 I really love my job. I've been with the Cambridge Punt Company since I graduated in 2014. I started out selling our punting tours – the feeling of being my own boss was brilliant.
Today, I manage all our staff, to make sure our punting customers have the best experience. We're one of the oldest punting companies here on Quayside, so we like to keep the standards high.
I also love working outdoors. I have a sports science degree – but being with clients inside a gym, I felt stuck. Even in cold weather, being outside has a real charm for me. The first day of spring is brilliant – we call it Shorts Day – I always look forward to the change of seasons.
Do you remember the first group you took punting?
I really do. My first punting tour was a wedding – talk about in at the deep end! Somehow, on my first day, I ended up with a bride and groom in my boat. I think I pulled it off – just! 
Tell us about the Cambridge Punt Company crew.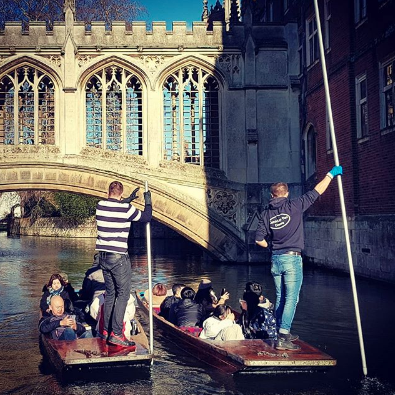 Our team are very cool. They know how to give great punting tours. Most of our staff have done this for years – so they've got great punting skills that they pass on quickly to newer recruits. We keep the best people because we look after them well.
It makes such a difference to our customers – to take a punting tour with our experienced crew who really love what they do. There are a few punting companies running completely to one script – but we read the boat, rather than a rigid script. Some punting customers want to soak up all the history. Others prefer jokes and entertainment. We know how to mix up the facts with the fun – to give our punting customers the experience they want.
So, how do you keep your lively team in line?
Fortunately, our team all want to work hard – so it's not too difficult to keep them motivated. They also know that I have absolutely no sympathy if they're out late the night before!
Any famous faces on board lately?
Recently, we took Ronnie O'Sullivan out with his friend and some kids. He joined one of our shared punting tours – great guy – he didn't want any special treatment. Normally, stars hire a private punt from us – they don't tend to mix with other customers. But Ronnie was more than happy to jump on board a shared punting tour – the other passengers were over the moon.
What else stands out about your punting tours?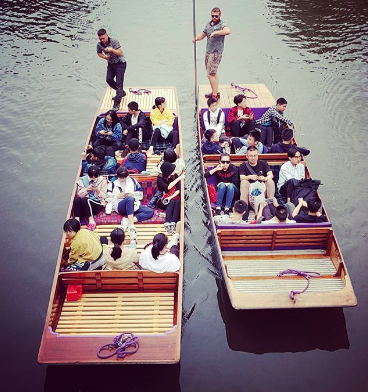 The owner of the Cambridge Punt Company, Nick, has great taste. Our hand-made boats are bigger and more comfortable than others. Our customers can book nice extras like picnics.
We also cover a little stretch of the River Cam where the bigger companies don't go – including Magdalene College, which houses Samuel Pepys's famous diaries and only opened its doors to women in 1988.
Everyone at the Cambridge Punt Company is very sociable too – so we greet people well, we're open to all questions and we're not shy with the liveliest customers.
Do you get any strange questions from punting customers?
Once I got asked if the punt was being pulled along the river by a chain. We also get asked if we're single quite a lot – especially by hens.
What was the most memorable punting tour you've given?
I'll never forget a punting tour I gave for the family of a lady who died. She used to come punting every year with us – she loved it so much. As part of her funeral celebration, her family got together from different parts of England. They took a private punting tour with us. It was sad but also really inspiring. I think the family really appreciated experiencing what she most loved to do.
How do you keep kids entertained and safe on board?
My favourite one is our 'duck count'! I tell kids there should be 37 ducks on the water but we haven't checked them today – so they need to count all the ducks for us. On the way back, they always get confused about which ones they've already counted. They really love it – duck spotting keeps them very busy on board!
With the naughty kids, we tell them there are sharks in the river – so they'd better keep their hands out of the water, snap!
What's the funniest amateur punting you've seen?
I've seen plenty of people fall in – including some who can't actually swim. It never goes well. Normally, someone has to jump in to save them. The moral of the story – learn to swim before taking a self-hire punt – or better still, stick with a chauffeured punting tour with the Cambridge Punt Company.
Book your shared punting tour or private punting tour with the Cambridge Punt Company – our best prices are available online.