Tis the season to go punting,
Come and punt with us, the 5 star crew!
Sparkly water, nights are warmer,
Lovely light first thing and evenings too.
Tales of wonder,
Marvellous culture,
Chauffeured tours, gleaming boats, Cambridge sights,
Tis the season to go punting,
Service at its best, we promise you.
With that little punting ditty off our chest, we shall kick off this season's punting blogs. Let us bow down to the All-Powerful and Eternal Oracle of Truth (otherwise known as Trip Advisor) – to find out what our recent punting customers have been saying behind our back.
As the sun dusts off his straw hat and polishes up his shades, will our Cambridge punting tours make the grade?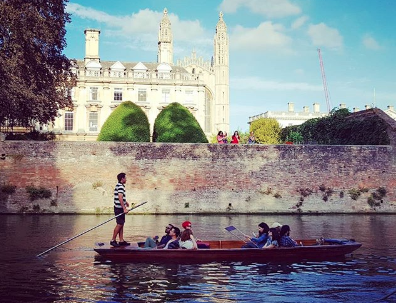 Our vital statistics for Cambridge punting tours in 2019
So, we've read all 141 reviews on Trip Advisor, posted between 1st January and 30th April 2019.
139 reviewers gave our Cambridge punting tours the maximum 5 stars – thank you, kind people, we are delighted. The other 2 reviewers gave us 4 stars and some rather lovely feedback.
This means 98.6% of Cambridge Punt Company customers in 2019 are completely satisfied with our Cambridge punting tours. This makes us very happy!
What Cambridge Punt Company customers say about our Cambridge punting tours
1. You appreciate the guides on our Cambridge punting tours
Dave from South Australia said his Cambridge punting tour was 'sooo relaxing'. Dave and his wife "took a trip with the wonderful Jake at the helm. Found him warm, engaging, highly knowledgeable and clearly very well educated (and the missus thought he was a good looking unit – but he still gets 5 stars despite that)."
Thanks Dave – we won't let it go to Jake's head!
2. You love the audience participation on our Cambridge punting tours
Reviewer 'Kevypee' from New Romney said: "We're sorry, Spencer! We took a guided punt tour and Spencer had to deal with five young children throwing questions at him for the entire 45 minutes. He coped admirably."
Thanks Kevypee – our punting guides do love to exercise their brains as well as their bodies. Come again and bring more questions!
3. You enjoy the Cambridge tales in our comfortable punts
Kim from Bishop's Stortford gave us 5 stars. She said it was a 'perfect punting' experience. 'Lovely way to spend an hour on the river. Giacomo was very knowledgeable and full of interesting information about all the Cambridge historical buildings. The punt was lovely with blankets when it got a bit chilly. We weren't crammed in – so all in all a lovely trip."
Thanks Kim – we do take great pride in our boats. In fact, we've just launched another gorgeous handcrafted punt on to the River Cam, to give you the best punting experience.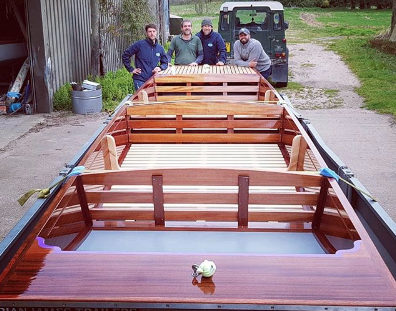 4. You love being chauffeured skilfully around the DIY punting brigade!
Trip Advisor reviewer, Janzibar, said: "We had an excellent guided punt along the Backs in a shared boat. It was hilarious navigating around the newbies crashing into the banks. But Dan was sure on the pole and we came to no grief. A lovely way to see the colleges of Cambridge."
Thanks Janzibar for your appreciation of our pole skills!
5. We seem to make our punting customers laugh
5 star reviewer, Bunmi, said: "I had such a great time punting, it was so relaxing on the boat and seeing the beautiful buildings of Cambridge. Jake our tour guide was amazing, taught us some history and added some jokes here and there. Everyone was laughing at some point. Definitely recommend."
Thanks Bunmi – #JakesFanClubIsGrowing!
3 top tips for the best Cambridge punting tours
1. Book your Cambridge punting tours online
Marie from Andover said: "Book online as it's cheaper than booking at the Riverside. There are many companies touting for business, so it will also save you listening to the hard sell."
Thanks Marie – and it gets even better. Until 10th May 2019, you can bag yourself a gorgeous 12-seater boat online for just £75 on weekdays (that's over 20% off!). 
2. Bring your favourite drink (or two)
Trip Advisor reviewer, 'Angsuch', said: "Top tip would be to take a gin and tonic on board for the ultimate relaxing afternoon!"
Thanks Angsuch – feel free to bring nibbles too or we can arrange picnics for your private punting tours.
3. Come punting early morning (or early evening) for the best experience
Cambridge resident, Lois, said: "Even though I live in Cambridge, I'd never been punting before but definitely wouldn't go to any other company again! The views from behind the colleges were amazing. Go before 1pm for the best experience."
Thanks Lois – we highly recommend booking an early morning or early evening punting tour in Cambridge – here's why. This really is the crème-de-la-crème punting experience.
And finally, you never know what to expect…
A reviewer from Kent had an unexpected extra thrown into her Cambridge punting tour. "Thank you to Spencer who gave us a great punting tour on the River Cam today – including dredging up a bike!"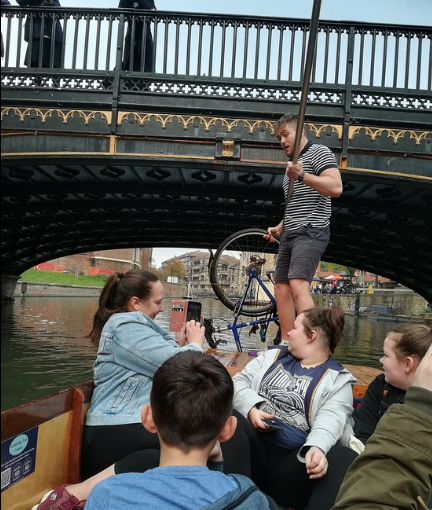 If you like what our punting customers have to say, then please book yourself a shared punting tour or private punting tour with The Cambridge Punt Company. Our best prices are online including our weekday offer of £75 for a private punting tour, available until 10th May 2019.